Newest// Older// GuestBook// Email Me// Diary Rings// Diaryland
2004-08-05 - 6:34 p.m.
Yes I'm back!! I guess you all want to know about how the weekend went! Saturday was horrible, Anthony was supposed to arrive at 2:00 in the afternoon. I got to the terminal at 1:30 so I could be there to greet him, 2:00 rolls around...no Anthony. So I waited and waited, finally it was 2:30 and STILL no Anthony! So I went to the ticket counter to ask what the hell was up and the guy said that the bus was stuck in traffic and would be here soon. I called my parents to let them know what was going on, and they said to let them know when he got here so they could pick us up and head to the weddding. More waiting.....finally around 3:15 I get a call on my cellphone, it was my mom and she said that Anthony called and said he would be late and would be here either by 4:00 or 4:30. Great, so that meant we were going to miss the wedding :( Long story short, Anthony didn't get here until shortly after 5:00, so we missed the wedding and we were missing the reception. We decided to go out for supper, the plan was to go to Applebees but there was a huuuuuuge line up, so we ended up going across the street to the Galaxy Diner.
We got home around 8:00 and watched a movie, nothing happened. After the movie we had JUST started to fool around and the doorbell started ringing! My parents had just gotten back from the reception, and my mom was drunk. Gahh so after that we just decided to go to bed. At first we shared my bed, but it was so damn crowded so I moved to the floor, Anthony was using both my pillows, so I made one out of my t-shirt and my teddy bear. lol. We got up at 7:30 and a ride to the bus terminal at 9:00. We left at 9:30 and got to Ottawa at 4:30 in the afternoon. The ride wasn't bad, we watched a few movies on the way there. We got to watch Hollywood Homicide and Cheaper By The Dozen. We didn't do much on Sunday night, just sat around watching movies and cuddling on the couch, and ordered pizza for dinner :)
Monday was REALLY busy! Anthony took me on a little sightseeing tour of Ottawa. He took me to see his work and I got to meet some of his co-workers. After that we took a whole bunch of buses and did soooooo much walking! I got to see the parliament buildings, a big mall, a war memorial, an outdoor market, and a museum. It was pretty cool!! After that we went to WalMart and picked up some snacks. I had brought my cherry brandy with me and we started drinking that. Anthony had never had it before then and he really liked it. We each had about 3 glasses, not enough to get us drunk but enough to make us giddy and silly. I went into the bedroom and he was like "Wait for me!!" and so we fooled around a bit. Night was the most fun because we just hung out and cuddled, and when we went to bed we'd talk for an hour or so. We didn't get to bed until almost 2am on Monday night (well, early Tuesday morning) We were humming and trying to guess which song either of us were humming. That was pretty fun.
Tuesday was the most amazing day of my life. We got up, made some breakfast and sat around for a bit. There was a bit of a thunderstorm going on outside so we stood on the balcony and watched it. After that we watched some TV and went into the bedroom and gave each other back massages with the massage oil. We started fooling around and one thing lead to another and well....we had sex. It was my first time. It hurt like hell for the first few minutes, I thought I was going to die! Luckily after the first few minutes it stopped hurting and started feeling amazing, he was very gentle with me and made sure I was alright. After we cleaned ourselves up we had some lunch and did some more sightseeing. He took me to this discount dvd place he likes, and I bought a few movies, Airplane and Planes, Trains and Automobiles. Went to Harvey's for supper and then went mini golfing. Came back, watched a few more movies and that was it. When I went to the bathroom, I looked in the mirror and noticed a hickey on my neck! LOL! When I showed him he kept saying "I'm sooo sorry, I kinda got carried away" It was definitely fun though!
We got up at 5:30 yesterday morning in order for me to catch the 7:20 greyhound to Toronto. Of course, being the baby I am, I started to cry a little bit, and cried even more when the bus pulled in. I didn't want to let go of him, but he told me I had to go. I told him I would send him an email when I got home. So I got on the bus, and felt worse when I saw him wave to me as I was walking down the aisle. I cried for about 10 minutes when the bus pulled away. The rest of the way I just slept, but stayed awake long enough to watch the movie that was playing, which was Radio. We got to Toronto shortly after 12. From there I caught the bus to Barrie at 12:30 and was finally home at 2:00.
*PHEW* I THINK that's everything, I may have left out a few things. I really want to go back to Ottawa! :(
This weekend were having a baby shower for my sister. So that should be fun I guess....
OH! Here is a picture that Anthony and I took on Tuesday night :)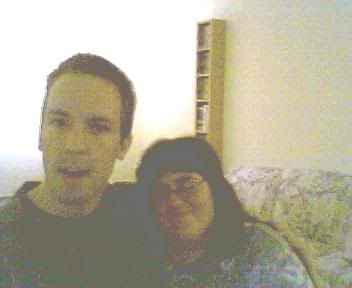 previous - next