Newest// Older// GuestBook// Email Me// Diary Rings// Diaryland
2002-02-20 - 12:11 p.m.
Hmmm....lots of stuff happening this week. A few hours after I dropped that resume off at Burger King I got a call for an interview! Whoohoo! It was this morning at 9:10. Theres a girl that works there that was friends with my sister and she said I have a good chance of getting the job cuz they like my brother.
THEN about 10 minutes after I got home from THAT interview, I got a call from the grocery store and I have an interview there next Tuesday at 9:00. SWEET!
Anyway, last night I went to my uncles house. He's the one that had the heart attacks. Well he just had surgery on his heart and he's pretty sore so we went over there to give him a fruit basket.
Anyway, my uncle is doing ok. I lent him a few of my Stephen King books. He's got almost all of them and he's giving them to me!! Ahh! My aunt just needs to find them first.
Hmmm....next week mom and dad are going to Las Vegas for a vacation. Nanny is staying with us!!! I can't wait!!
RECOMMENDED DIARY OF THE DAY:
britnyspears
And now for your reading pleasure, MORE TESTS!!!

Who are you? Find out @ She's Crafty

Take the Affliction Test Today!
Take the What Should Your New Year's Resolution Be? Quiz
You are 49 - 63% HO!
If you were a New York resident you'd be from Manhattan.
But that's ok! You still walk the walk and talk the talk of a real HO!

Your HO Goddess is Estelle Getty.

Strawberry: 0/100 Pear: 20/100 Banana: 10/100 Tomato: 80/100 Lemon: 0/100

Take the What Fruit Are You? test by Ellen and Aaron!

Victims were tied to you, then you were rotated slowly over some body of water. They either confessed, or drowned. Pretty tame, actually... you're fairly forgiving once people can admit they were wrong.

What torture would you be?
Which Evil Criminal are You?
You answered all questions in a gay way. You must be gay. If not, you are extremely okay with gay people.

To take the quiz yourself, click here now!

*Take The Wacky Racers Test!*

Take the Radiohead Collective Member Test.
I scored 3 on the pervertedlogic.com CyberWhore Poll!
My heavens! You're an ONLINE NUN! Are you sure you have ever actually BEEN online? That's not a TV you're sitting in front of, you know. How you have managed to avoid sex on the internet for so long makes you one for the record books. You're having your slutty sister fill this quiz in for you, aren't you? No wonder you list Vatican City as your profile location.
you are chris!
you're shy, cuddly and play bass. sometimes you are the overlooked member of the 'chair, but that's okay because the less attention you get the better. You are reminiscent of a big teddy bear and probably get hugged a lot.
Take The "Which silverchair Member Are You?" Test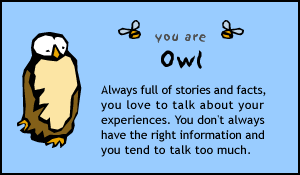 Take the 100 Acre Personality Quiz!

I'm a Fire Spirit
La la la


previous - next